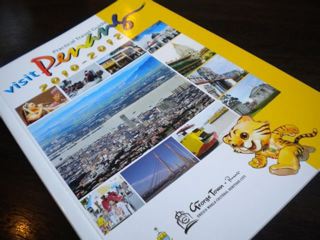 The Penang State Tourism Development & Culture office has once again successfully managed to publish another helpful guide for the convenience of tourists who are visiting or are making plans to visit Penang.
Consisting of detailed information of the attractions in Penang, as well as Penang's Top 12 Best Food to eat, Top 12 Best Places to visit and Top 12 Best Buy Special Products, the 'VisitPenang2010-2012 Practical Travel Guide' also includes the cultures of Penang such as Chingay and Dragon Boat as well as it's religious festivities - Thaipusam, Bon Odori and more.
The guide has a street map to help navigate tourists through the streets within and nearby the UNESCO World Heritage Site precinct.
Companies are welcomed to advertise with us in the next batch of VisitPenang 2010-2012 Practical Travel Guide at RM2,000 for an advertisement of a full coloured page. For further information
please email to
info@visitpenang.gov.my
or call 04-6505136.